Forklift spreader for container handling
KAUP Container spreaders for forklift trucks guarantee efficient handling for all container types. Whether it's a top spreader, spreader for lateral or frontal pick-up, rigid design or telescopic - KAUP spreaders can be optimally configured for almost any application.
KAUP forklift trucks spreaders ensure maximum handling performance, providing an excellent view of the container corners. This enables the operator to position the spreader quickly and accurately.
Features & Options
innovative & long-lasting
KAUP forklift spreader at a glance
Fixed Top Lift Spreader T192E
For top handling a specified container size (10' to 40' ISO / Sealand / special container dimensions)
To be slipped onto forks and inverted forks | Hook-on | Integrated | Terminal West | Pin Type
Capacity (SWL) from 1.000 kg to 45.000 kg
Telescoping Top Lift Spreader T192E
For flexible top handling of 10' to 40' ISO / Sealand / special container dimensions
To be slipped onto forks and reversible forks | Hook-on | Integrated | Terminal West | Pin Type
Capacity (SWL) from 1.000 kg to 45.000 kg
Double Telescoping Top Lift Spreader T192E
For top handling of containers with customized dimensions for example; accommodation, office, construction or module containers.
To be slipped onto forks and inverted forks | Hook-on | Integrated | Terminal West | Pin Type
Capacity (SWL) from 1.000 kg to 12.000 kg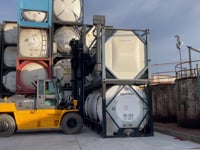 Fixed Side Lift Spreader T193
For lateral handling of a specified container size (10' to 40' ISO / Sealand / special container dimensions)
Hook-on | Integrated | Terminal West | Pin Type
Capacity (SWL) from 1.000 kg to 12.000 kg
Optionally available with independant sideshift
Optionally available with hydraulically adjustable bottom support
Telescoping Side Lift Spreader T193
For flexible lateral handling of 10' to 40' ISO / Sealand / special container dimensions
Hook-on | Integrated | Terminal West | Pin Type
Capacity (SWL) from1.000 kg to 12.000 kg
Optionally available with independent sideshift
Optionally available with hydraulically adjustable bottom support
Fixed End Lift Spreader T193L
For lateral handling of empty containers
Hook-on | Integrated | Terminal West | Pin Type
Capacity (SWL) from 1.000 kg to 8.000 kg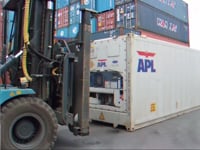 Rotating End Lift Spreader T193LD (360° endless)
For lateral handling and turning empty containers
Hook-on | Integrated | Terminal West | Pin Type
Capacity (SWL) from 1.000 kg to 8.000 kg