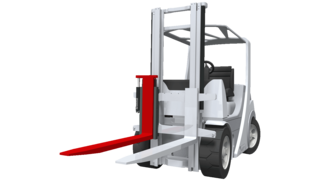 Specification:
The height adjustable fork T158 of KAUP is hung up directly in the ISO carriage and serves as a level compensator. If two height adjustable forks are used at the same time, an additional heave occurs. Height adjustable forks are used together with a hook-on fork.
Product pictures and videos
Qualities:
Robust construction
An easy assembly
Level compensators based on rotators are available upon request.
Calculate residual capacity
Do you want to equip your forklift truck with an attachment from KAUP? Then you can calculate the residual capacity of your forklift roughly and without obligation here.
Create online offer
With our eQuotation-Tool you can independently create a binding offer for an attachment from KAUP.
Please login to use the eQuotation-Tool.
We are here for you.
We offer you first-class services for our quality attachments: whether spare parts, professional technicians for repair and maintenance on site, training for regular care and ongoing maintenance of KAUP products.
Similar attachments from KAUP