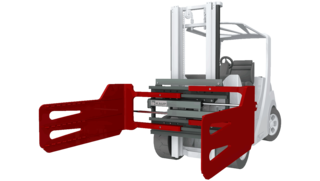 Specification:
KAUP Recycling Bale Clamps are suitable for the transportation of non- palletised reusable materials in the recycling industry. This special range of bale clamps has several specific features, e.g. clamping arms 2 metres long for clamping the load, strengthened arm connections on the clamp profiles to allow clamping with the tips of the arms.
Product pictures and videos
Qualities:
Excellent price-performance ratio
Solid strengthened design with KAUP clamp profiles from T-profiles and C-profiles
Strengthened arm construction with toothed bars
Solid wear and tear bars under clamp body and clamp arms optionally
Independent sideshift serially
Combination with KAUP rotary devices possible
Customer specified modifications feasible
Also available without sideshift, model T403RC
Load Backrest see model T179.
Calculate residual capacity
Do you want to equip your forklift truck with an attachment from KAUP? Then you can calculate the residual capacity of your forklift roughly and without obligation here.
Create online offer
With our eQuotation-Tool you can independently create a binding offer for an attachment from KAUP.
Please login to use the eQuotation-Tool.
We are here for you.
We offer you first-class services for our quality attachments: whether spare parts, professional technicians for repair and maintenance on site, training for regular care and ongoing maintenance of KAUP products.
Similar attachments from KAUP