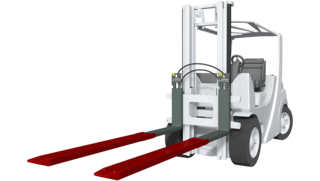 Specification:
Using KAUP Telescopic Forks trucks, wagons and goods stored double deep on shelves can be loaded and unloaded. To achieve this, Telescopic Forks are designed with hydraulic synchronous fork shoes which can, if necessary, be extended step-less.
Product pictures and videos
Qualities:
Excellent residual capacity
Low lost load centre
Very good visibility conditions
Forks with hydraulic synchronism
All models with parallel movement
Other capacities, profiles or lengths upon request.
Dim. E: The outer fork is reinforced in the rear area (fork width 'E' + 10 mm).
Calculate residual capacity
Do you want to equip your forklift truck with an attachment from KAUP? Then you can calculate the residual capacity of your forklift roughly and without obligation here.
Create online offer
With our eQuotation-Tool you can independently create a binding offer for an attachment from KAUP.
Please login to use the eQuotation-Tool.
We are here for you.
We offer you first-class services for our quality attachments: whether spare parts, professional technicians for repair and maintenance on site, training for regular care and ongoing maintenance of KAUP products.