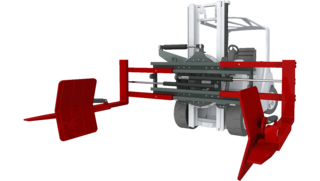 Specification:
A special attachment: the KAUP Tyre Handler T421SV. It allows the trouble-free transport of colossal, heavy tyres and their assembly in mining, mines and building industry. Optionally the attachment can be also adapted to the application at very low temperatures.
Product pictures and videos
Qualities:
Robust construction
Solid and slender arm construction
Independent sideshift and level balance serially
Serially contact pads around 90° rotating
10T and above - Terminal West / Pin-Type mounting available upon request.
Pads ± 90° tiltable available upon request.
1) At oil flow rates of over 80 l/min flow restriction valves are to be applied.
Calculate residual capacity
Do you want to equip your forklift truck with an attachment from KAUP? Then you can calculate the residual capacity of your forklift roughly and without obligation here.
Create online offer
With our eQuotation-Tool you can independently create a binding offer for an attachment from KAUP.
Please login to use the eQuotation-Tool.
We are here for you.
We offer you first-class services for our quality attachments: whether spare parts, professional technicians for repair and maintenance on site, training for regular care and ongoing maintenance of KAUP products.
Similar attachments from KAUP