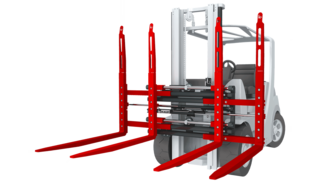 Specification:
The newly designed Double Pallet Handler range T429C set new standards for Multi Pallet Handlers in lost load centre, residual capacity and visibility through and over the attachments to the fork tips and load. The practice orientated solid construction from T-profiles and C-profiles ensures highest stability and long operating hours with extended intervals between servicing and a minimum of required maintenance. At the same time the new Double Pallet Handler consumes 20% less energy.
Product pictures and videos
Qualities:
Double Pallet Handler for heavy duty tasks
Excellent visibility conditions
Good residual capacity
Screw-on forks serially
Synchronized for quicker working speeds
Independent sideshift serially
Optional: single control of seperate fork pairs - adjustment of opening range to suit different types of pallets
Measurement "C" = alternatively 560 / 650 / 700 mm mechanically or hydraulically adjustable (solenoid valve required).
Measurement "H" = standard height 1.400 mm, other lengths and forms upon request.
Double solenoid valve for additional individual adjustment for each pair of forks available upon request. (add-on price)
1) Optional with fork thickness 40 mm. (add-on price)
2) Fork length optional 1.000 mm, 1.150 mm or 1.200 mm. (no add-on price)
3) for handling of europallets crosswise we recommend the 1.400 mm wide body version
4) Standard with wider fork shanks.
Locating claw on fork tip available upon request.
Double Pallet Handler with Load Stabilizer available upon request.
Calculate residual capacity
Do you want to equip your forklift truck with an attachment from KAUP? Then you can calculate the residual capacity of your forklift roughly and without obligation here.
Create online offer
With our eQuotation-Tool you can independently create a binding offer for an attachment from KAUP.
Please login to use the eQuotation-Tool.
We are here for you.
We offer you first-class services for our quality attachments: whether spare parts, professional technicians for repair and maintenance on site, training for regular care and ongoing maintenance of KAUP products.