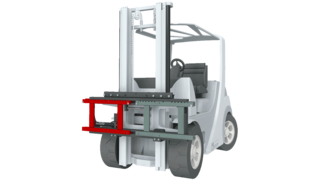 Specification:
The Double Sideshifter T252B is a part of the KAUP Multiple Sideshifter product range. This attachment extends the operation of every forklift truck as the Double Sideshifter can simultaneously pick up two transport units.
Product pictures and videos
Qualities:
Very good residual capacity
Good visibility conditions
SMOOTHROLL- bottom hooks with compact rollers serially
L = Pallet handling lengthwise / Q = Pallet handling crosswise
Forks see model T180.
Please observe necessary fork shank under-clearance.
Capacities of 3T upwards with SOFTSTOP end-of-stroke slow-down.
Higher capacities and other construction widths available upon request
Load Backrest see model T179.
Calculate residual capacity
Do you want to equip your forklift truck with an attachment from KAUP? Then you can calculate the residual capacity of your forklift roughly and without obligation here.
Create online offer
With our eQuotation-Tool you can independently create a binding offer for an attachment from KAUP.
Please login to use the eQuotation-Tool.
We are here for you.
We offer you first-class services for our quality attachments: whether spare parts, professional technicians for repair and maintenance on site, training for regular care and ongoing maintenance of KAUP products.
Similar attachments from KAUP