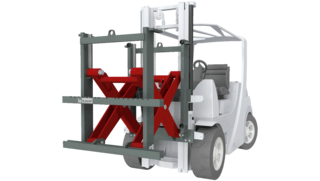 Specification:
The KAUP Pantograph type T149/T149Z is put into operation whenever Telescopic Forks or Reach Forks cannot be used due to the thickness of the forks. The knife forks of this attachment can pick up loads with very little bottom clearance and stacked double deep for transportation. Additionally the Pantograph T149/T149Z can be combined with a whole range of other KAUP attachments - for example Bale Clamps and Roll Clamps.
Product pictures and videos
Qualities:
Original forks useable
Solid design
Sideshift optionally
2/3T149Z suitable to attach clamps and multi pallet handlers.
The capacities are related to the extended pantograph
Available with sideshift function upon request.
Max. distance from fork tip to mast = V + C + thickness of FLT carriage + fork lenght.
Other fork carriage widths available upon request.
Calculate residual capacity
Do you want to equip your forklift truck with an attachment from KAUP? Then you can calculate the residual capacity of your forklift roughly and without obligation here.
Create online offer
With our eQuotation-Tool you can independently create a binding offer for an attachment from KAUP.
Please login to use the eQuotation-Tool.
We are here for you.
We offer you first-class services for our quality attachments: whether spare parts, professional technicians for repair and maintenance on site, training for regular care and ongoing maintenance of KAUP products.
Similar attachments from KAUP