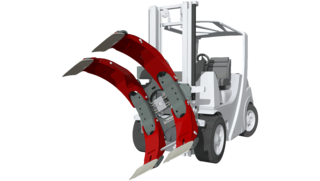 Specification:
With the new view-optimised designed KAUP Rotating Roll Clamp T458B-2 roles and pipes can be taken up and transported carefully. The contact pad of this attachment is divided and allows in such a way that at the same time two roles - also with different diameters - can be transported stacked. This makes this attachment everywhere inalienable where the dandling of paper rolls, concrete tubes and similar is essential.
Product pictures and videos
Qualities:
Very good visibility conditions
Favourable lost load and weight
Solid, slender arm construction
Different contact pad coatings available
Rotation 360° endlessly
Limitation on rotation 180° optionally
Service friendly
1) Version with fixed short arm
Optional: contact pad coatings (standard polyurethane coating Poly-1)
Capacity related to max. roll diameter.
Optional: The short arm can be hydraulically adjusted at a rotation angle of 45°.
Optional: restricted to 180° rotation, Tissue version, short arm with continuous contact pads.
For taking up horizontal rolls, 5-degree mast forward tilt is required.
Pressure plate coverings see under accessories.
Attachment with sideshift Model T498B-2 (add-on price).
Calculate residual capacity
Do you want to equip your forklift truck with an attachment from KAUP? Then you can calculate the residual capacity of your forklift roughly and without obligation here.
Create online offer
With our eQuotation-Tool you can independently create a binding offer for an attachment from KAUP.
Please login to use the eQuotation-Tool.
We are here for you.
We offer you first-class services for our quality attachments: whether spare parts, professional technicians for repair and maintenance on site, training for regular care and ongoing maintenance of KAUP products.
Similar attachments from KAUP