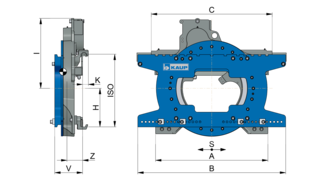 Specification:
Beside the foundry implementation the KAUP Rotator 360° endless T391 is also avialable in two fishing implementation. These attachments are adapted to the demands of this operational area with special sea-water resistant paint, galvanised screws, flanges and fork carriages (according to implementation) as well as drill holes sealed with silicon.
Qualities:
Good visibility conditions
Good residual capacity
Rotation 360° endlessly
Robust construction with gear drive
Independent sideshift serially
Original forks usable
Lateral supporting fork and load stabilizers optionally
Rotators with higher rotating speeds available upon request
Other fork carriage widths available upon request.
Removable lateral supporting fork 800 mm available against add-on price
Removable and foldable lateral supporting fork 800 mm available against add-on price
Downhold T167 to empty metal grid boxes etc on request
Matching forks for KAUP-Rotators on request.
When forks are used in combination with a Rotator extremely high strain is applied to the lower fork angle when rotating a load which in turn strains the lower brackets.
For this type of operation KAUP recommends forks with strengthened lower brackets. Strengthened lower brackets can be ordered for all ISO forks model T180.
Product pictures and videos
Calculate residual capacity
Do you want to equip your forklift truck with an attachment from KAUP? Then you can calculate the residual capacity of your forklift roughly and without obligation here.
Create online offer
With our eQuotation-Tool you can independently create a binding offer for an attachment from KAUP.
Please login to use the eQuotation-Tool.
We are here for you.
We offer you first-class services for our quality attachments: whether spare parts, professional technicians for repair and maintenance on site, training for regular care and ongoing maintenance of KAUP products.