Modern coil handling
Special clamps
Intersig N.V. from Dendermonde, Belgium, has been operating since 1983 under the motto 'Intersig: More than Wire!'.
Together with Van Merksteijn (Netherlands), the company forms a group of companies with three production sites in Belgium (Dendermonde), the Netherlands (Almelo) and France (Saint Pourcain sur Sioule). Today, Intersig is one of the largest independent manufacturers of reinforced steel bars for the construction industry. The company's product portfolio includes lattice girders, reinforcing steel meshes and reinforcing steel in rings.
Challenges
Intersig needed a suitable, robust attachment for the gentle double-deep loading and unloading of trucks with coils in different dimensions (inner diameter 550 - 930 mm). The handling of wire coils is in itself demanding, because coils should generally not be clamped on the outside to prevent their deformation. The attachment must therefore be designed to clamp the coils securely on the inside.

Presenting long-standing customer Intersig with a convincing, suitable attachment for its handling task at short notice.
Solutions
Complex attachment consisting of two core elements – suitable for Linde H80D/1100:

Hydraulic telescopic boom (1,250 - 2,250 mm)
Hydraulic coil clamp that can be swung longitudinally and laterally with

Load capacity 5,500 kg at 1,500 mm LSP // 3,500 kg at 2,250 mm LCD
Clamp arms lengthwise in the direction of travel
Integrated mechanical coil re-clamping system
Limit switch for sensing the opening range
Successes
Short-notice presentation of a suitable solution for coil handling at Intersig --> long-standing customer convinced again

Tight schedule – contact, presentation of the solution, order, production, delivery, commissioning – adhered to

KAUP once again proves its competence in the implementation of the handling requirements of the metal industry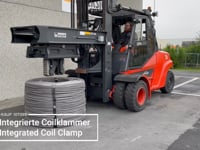 Intersig N.V. is an owner-managed public limited company. The group produces structural steel and, besides production, focuses on service, reliability and partnership.
Head Office: Dendermonde, Belgium
Branch: Metal industry
Website: intersig.be