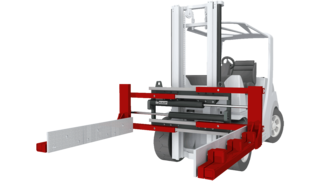 Specification:
KAUP Block Clamps T412HP are usually used to handle blocks with the common dimensions of 400 x 200 x 200 mm. Therefore the clamping arms are each fitted with three mechanical equilibration plates (400 x 200 mm). Typically they are manufactured from bulb plate. Depending on the particular application, polyurethane coated contact surfaces are also available.
Product pictures and videos
Qualities:
Hydro-mechanical compensation
Low lost load centre - excellent residual capacity
Very good visibility conditions
Independent sideshift serially
Load Backrest optionally
1) VSS = Valveblock sideshift dependent on opening range.
Also available without sideshift, model T402HP
Load Backrest see model T179.
Calculate residual capacity
Do you want to equip your forklift truck with an attachment from KAUP? Then you can calculate the residual capacity of your forklift roughly and without obligation here.
Create online offer
With our eQuotation-Tool you can independently create a binding offer for an attachment from KAUP.
Please login to use the eQuotation-Tool.
We are here for you.
We offer you first-class services for our quality attachments: whether spare parts, professional technicians for repair and maintenance on site, training for regular care and ongoing maintenance of KAUP products.
Similar attachments from KAUP