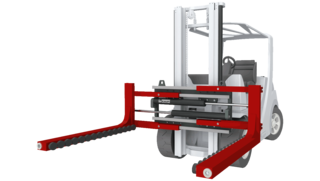 Specification:
KAUP Block and Brick Clamps T412H are used for handling small format blocks such as building bricks and paving stones. The grease filled clamping arms of this attachment have mechano-hydraulic equilibration pistons with different coatings. They adapt to irregular shaped loads and can therefore clamp the load as required. Steel plates for handling rough, hard, heavy concrete blocks, rubber coating for pick up of aerated concrete blocks and Vulcollan coating as an all-rounder are just some of the possibilities available.
Product pictures and videos
Qualities:
Low lost load centre - excellent residual capacity
Very good visibility conditions
Independent sideshift serially
Different kinds of equalising buffers on offer
Load Backrest optionally
HG = Rubber coating Ø 75, HV = Polyurethane coating Ø 75, HV-Q = Square Polyurethane buffers 75 x 75 mm, HS = steel disc Ø 65, HS-Q = Square steel buffers 80 x 80 mm
1) Length G depends on the number of pistons ( ): available arm length 942 (11), 1.024 (12), 1.106 (13), 1.188 (14), 1.270 (15)
Also available without sideshift, model T402H
Load Backrest see model T179.
Calculate residual capacity
Do you want to equip your forklift truck with an attachment from KAUP? Then you can calculate the residual capacity of your forklift roughly and without obligation here.
Create online offer
With our eQuotation-Tool you can independently create a binding offer for an attachment from KAUP.
Please login to use the eQuotation-Tool.
We are here for you.
We offer you first-class services for our quality attachments: whether spare parts, professional technicians for repair and maintenance on site, training for regular care and ongoing maintenance of KAUP products.
Similar attachments from KAUP