Millimetre precision
Telescopic Forks T180CTC with length measuring system
While maintaining a high work rate, a KAUP attachment with special equipment ensures low reject rates at a large, family-run logistics service provider in southern Hesse.
Logistics companies: a core element of modern supply chains. The fact that supply chain professionals can do more than just get a wide variety of goods from A to B is more than proven by Hofmann Internationale Spedition GmbH from Biebesheim am Rhein in southern Hesse. This family business with 60 years' experience in logistics not only operates a fleet of over 100 of its own vehicles. It also sees itself as a fully comprehensive logistics service provider, which is why Hofmann Contract Logistik GmbH (Hofmann Contract), a separate company for warehousing, order picking, packaging and shipping, is also part of the Hofmann Group. Hofmann Contract not only offers 36,000 pallet storage spaces, but also a range of other add-on services. In order to be able to move all its loads efficiently and safely, Hofmann relies on a range of industrial trucks from Crown. One of these is equipped with a special attachment from KAUP: a pair of telescopic forks with depth sensing, also known as a length measuring system.
"Day in, day out we move a very wide range of loads here," says Charles Wolf, Head of Operations at Hofmann Contract. "It starts with bags weighing just five grammes," says Wolf, "and goes right up to pallets at three tonnes. The fact that the loads are transported on different load carriers is just one challenge. Having the time to complete the orders on time, is quite another. Two additional factors that are actually mutually exclusive also come into the mix: extremely optimised space usage and hazardous goods.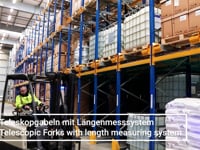 In order to be able to operate in an optimal fashion among all these stress factors, Hofmann Contract was looking for the right material handling solution that would rule out frequent changes of carrier vehicles. When they first started looking around, the KAUP system was not the automatic first choice. "We initially tried out a few systems," explains the logistics professional, "but none of these led to the success we were looking for, because we didn't want to keep changing vehicles," he explains further.
The company only came closer to a solution when Wolf saw the telescopic forks with depth sensing in action elsewhere. "We then came across KAUP via our forklift salesman," says the manager. "We went on to describe our requirements and it soon became clear that the short version of the telescopic forks would be right for us." This is because the design and the depth sensing make it almost impossible to 'poke' goods in the second row.
Why? Telescopic forks are perfect for handling cargo double-deep in HGVs, wagons or racks. The length measuring system integrated into the telescopic forks constantly provides information about the actual fork length or extends the telescopic fork to a defined length - even if the view of the fork tip is restricted or the exact fork position might be unclear. For Hofmann Contract, this is a decisive factor, as the system is used to handle loads weighing up to 1.25 tonnes, even at great heights.
The telescopic forks with depth sensing have now been in use at Hofmann Contract in southern Hesse for some time. "At the start, our forklift drivers had to be convinced of the new system," says Wolf. "But that didn't take long. As a result, and after a few initial issues, we are now totally satisfied," he sums up. The company has achieved its goals: reject rates are sinking without any loss of the high speeds they are used to, with the forklift drivers accepting and using the same forklift without losing flexibility. Charles Wolf sums it all up as follows: "Having the right attachment on the right industrial truck leads to success and makes day-to-day business easier."
Customer:
The Hofmann Group is a modern, medium-sized family business based in Biebesheim am Rhein in Hesse. The group can look back on over 60 years' experience in transportation and logistics and, since the company was founded, it has developed into a proven partner for sophisticated transportation and logistics services.
Head Office: Biebesheim - Rhine, Germany
Branch: Logistics services
Website: hofmann-spedition.de