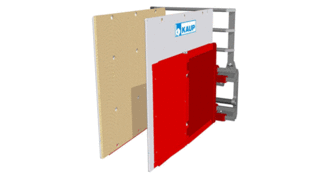 Specification:
The KAUP Carton Clamp T413G-1L is used where white and brown product as well as other wide loading property is used. On account of his very slender arms this attachment is suited particularly for the truck and container loading.
Product pictures and videos
Qualities:
Low lost load - very good residual capacities
Very good visibility conditions
Very slender clamp arms
Independent sideshift serially
Load backrest optionally
Add-on price for 100mm armlength / -height on request,
Option: with automatic pressure switching (sensor technology) or attachment available with Smart Load Control (SLC), an autonomous system for controlling the clamp force (models 2T after design adaptation).
For contact pad coatings see accessories in the pricelist.
Also available with 2 contact pads on the swivelling arm - model T413G-2L / T403G-2L.
Also available without sideshift, model T403G-1L
Load Backrest see model T179.
Calculate residual capacity
Do you want to equip your forklift truck with an attachment from KAUP? Then you can calculate the residual capacity of your forklift roughly and without obligation here.
Create online offer
With our eQuotation-Tool you can independently create a binding offer for an attachment from KAUP.
Please login to use the eQuotation-Tool.
We are here for you.
We offer you first-class services for our quality attachments: whether spare parts, professional technicians for repair and maintenance on site, training for regular care and ongoing maintenance of KAUP products.